Time & Date Stamp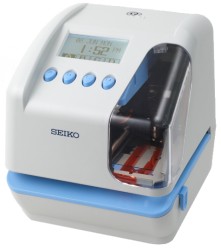 Seiko Japan TP-50 Time/Date Stamp
The TP-50 brings the highest possible flexibility into time & date stamping.The TP-50 combines standard time and date printing with pre-set or customised comments, numbers and counters – all individually selectable via the 4 function buttons (A, B, C and D).Complete cutomisable printing can be set-up from a PC by use of USB memory stick transfer.  Recording and retrieval of counters and date/time via USB memory stick data transfer back to a PC.
Time & date printing up to 14 days in to the future is available, making it suitable for "best before" applications.
Main Applications:
Time Recording – for accurate job costing and payroll control
Time Stamping – for time-sensitive identification
Numbering – for serial identification of documents
Main Features:
2 line printing with one document entry
Up to 4 print patterns selectable by dedicated function buttons (A. B. C and D)
Custom comment setting and configuration via PC
Versatile numbering counters – count-up/count down, configurable counting range (by min, max, and initial number)
Data collection via USB memory stick
Illuminated print window and back-lit graphical display
Shifted time printing
Easy adjustment of print position
Intuitive programming and operation by graphical display available in 6 languages (English, French, German, Italian, Spanish, and Portuguese)
Automatically adjusts for Daylight Savings Time
Memory for 48 program steps.  This allows blocking/unblocking of certain functions, printing, lighting settings or the whole unit during certain time periods
4 digit numeric password for program protection
Never needs resetting and keeps time during power failure
Designed for wall or table mounting
Choice of left or right margin printing
Printing options include Manual, Automatic, Semi-Automatic
1 to 8 digit numbering, with up to 9 repeats
Selectable printing orders: 29 preset formats such as: "31 JAN 2003 10:08″
Selectable print formats:
   2 or 4 digit year print
   AM/PM or 24 hour format
   Regular minutes, 1/10th, 1/100th, or 1/20th of an hour
   13 preset comments such as PAID, FILED, or SENT
Rechargable battery for printing during power failures (optional)
2 line printing with one document entry
When two line printing is activated, the 2 lines are printed during the left (line 1) and right (line 2) print head movement.  No more feeding the document in twice to print two lines – printing is now accurate and fast.
---
TS-350 series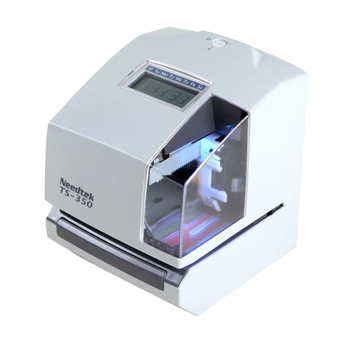 TS-350 series
Time Stamp
Description
Time Stamp or numbering machine can be used to support time and attendance, job costing, and document control and is designed for a professional office environment.
Slectable printing order up to 30 sets for choice.
Time Stamp can be customizable printing order; 3 separate lines maximum for setting.
Time Stamp with build-In Buzzer & Output Signal function.
Made in Taiwan.
Features

| | |
| --- | --- |
| | Power Rating: 110-120V(refer to the indication on the label of each machine) |
| | AMP: 0.2AMP |
| | Dimension: D16.5 x W15 x H18 cm³ |
| | Weight: 2.5Kgs |
| | Ambient: 0°C~40°C |
| | Condition: 10~80% RH |
Specification

| | |
| --- | --- |
| | The illuminating LED makes it easier to set the document correctly and operate the printing efficiently. |
| | Easy to read large visible window shows date, time and day of the week. |
| | 13 preset comments such as SENT, IN, OUT, PAID, FAXED or VOID. |
| | Languages in English, German, Spanish,French, Italian or Portuguese for print day of the week and month. |
| | Perpetual calendar, automatically adjusts Daylight Saving Time (D.S.T.) |
| | Asterisk |
| | Rechargeable NICD battery pack provides energy for prints during power failures. (Optional |

---

Al-Kauthar Al-Khaleej- Egypt for Electronic & Technological Systems. , Tel: +2 02-26714385 , Fax: +2 02-26714394 , Mob: +201271925738 , E-mail: info@kkctgroup.com